Juicebox Live presents:
Seth Lakeman
Seth Lakeman + Winter Mountain (Joe Francis)
Buy Tickets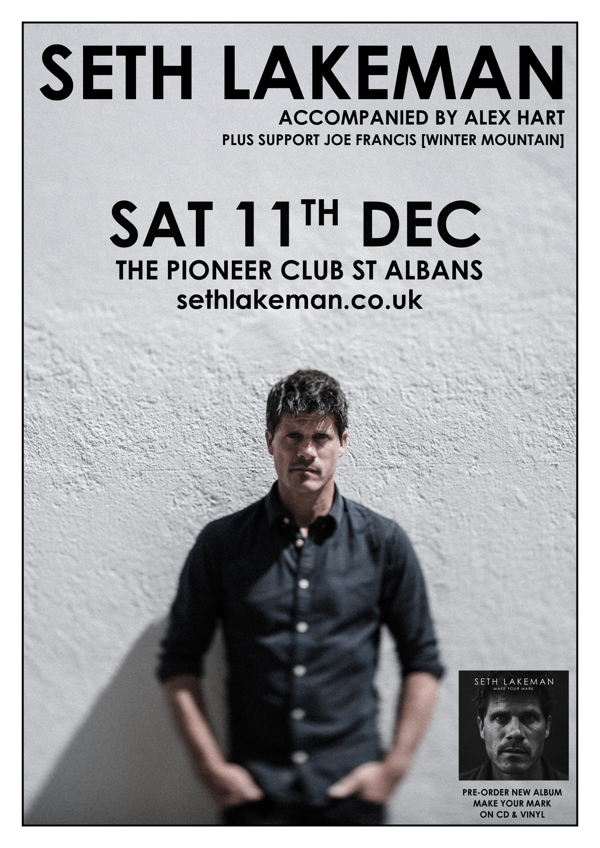 PLEASE SEE COVID-19 ENTRY POLICY BELOW
Seth Lakeman was nominated for the Mercury Music Prize in 2005 for 'Kitty Jay'. It catapulted Lakeman into the forefront of the new British folk movement and his follow up was the gold-selling 'Freedom Fields' which was released twice in 2006. Produced by his brother Sean Lakeman it came out on iScream and was then re-released by Relentless (EMI) where it went on to become Seth's first of 6 UK Top 40 albums.
Seth released new album 'A Pilgrim's Tale' in February 2020, a year that marked four centuries since The Mayflower ship departed the UK. The album was released amidst a selection of UK concerts where Seth visited locations significant to The Mayflower tale. The record is narrated by the actor Paul McGann (Dr Who/Withnail and I/Hornblower/Luther), and features a host of guest performers including Cara Dillon, Benji Kirkpatrick, Ben Nicholls and Seth's father Geoff Lakeman. Recorded on the last night of the tour in February 2020 'Live at St Andrew's Church in Plymouth' has been released on double CD.
2021 is the 15th anniversary of Freedom Fields and Seth played a one-off, online global broadcast with his band in February to celebrate the anniversary playing the album in its entirety plus other favourites. In March, Seth performed 'How We Remember' (A Song For Devon) with singers from across the county as part of the national Song For Us project organised by Song UK and supported by Arts Council England.
COVID-19 ENTRY POLICY
Following the COVID-19 pandemic, we have introduced procedures in order to keep attendees safe when they visit The Pioneer Club.
For entry, you will need to demonstrate your COVID-19 status by providing either:
• Proof of a negative NHS Rapid Lateral Flow Test (such test to be taken within 24 hours prior to attending the event at the venue); or 
• Proof of full vaccination - both doses received (with the second at least 14 days prior to the arrival at the venue); or
• Proof of natural immunity based upon a positive PCR test within 180 days of arrival at the venue (and after the 10-day self-isolation period following the result).
Please be ready to show this when you arrive.
HERE'S HOW
• PROOF OF A NEGATIVE NHS RAPID LATERAL FLOW TEST 
NHS Rapid Lateral Flow tests are free. You can order NHS Rapid Lateral Flow Tests here or pick them up from any pharmacy or test site. 
Please do not bring the home test strip with you. 
Follow these instructions for what you need to do: 
You must report your COVID-19 NHS Rapid Lateral Flow Test result online, by clicking on this link - COVID-19 NHS Rapid Lateral Flow Test result. 
If you do not have access to the internet, you can also report your test result by calling the phone number in your test kit instructions, NHS 119.
You will need to demonstrate your negative NHS Lateral Flow Test result by showing us one of the following:  
• Text OR email confirmation of your result 
• OR by using the NHS COVID Pass, available through the NHS App 
• OR as a letter that can be requested by ringing NHS 119.
• PROOF OF FULL VACCINATION – BOTH DOSES RECEIVED 
We cannot accept vaccine cards issued at vaccination centres as proof of vaccination. 
Please use the NHS COVID Pass to show your vaccination status using the NHS App or the NHS website to download it as a PDF or get it sent to you in an email.   
You can also get a paper version (vaccination status only - not test results - 2 weeks after having a full course of the vaccine) sent to you in the post. You do not need to be registered with a GP surgery or have an NHS login for this. You can get a letter (within 5 working days) by requesting a COVID Pass letter online or calling NHS 119.
Here's how to get a record of your vaccination status in Scotland, Wales or Northern Ireland.
• PROOF OF NATURAL IMMUNITY 
Please use the NHS COVID Pass to show your positive PCR test within the past 6 months using the NHS App or the NHS website, after you've finished self-isolating and up to 180 days after taking the test.
FACE COVERING
You are welcome to wear a face covering if you choose to. Whilst it's no longer a mandatory requirement, we remind you to give those around you space, some people may want to distance themselves during the event.
We have structured our entry policy so that no one is excluded from attending an event at The Pioneer Club. All our staff and performers also have their COVID status checked. If you have any queries then please get in touch.
Line Up
Seth Bernard Lakeman is an English folk singer, songwriter, and multi-instrumentalist, who is most often associated with the fiddle and tenor guitar, but also plays the viola and banjo. Nominated for the 2005 Mercury Music Prize, Lakeman has belonged to several musical ensembles, including one with his two brothers, fellow folk musicians Sam Lakeman and Sean Lakeman, but has most recently established himself as a solo act.