The Pioneer Club presents:
WIINK // Kick Pistol // ALLORA
WIINK + Kick Pistol + ALLORA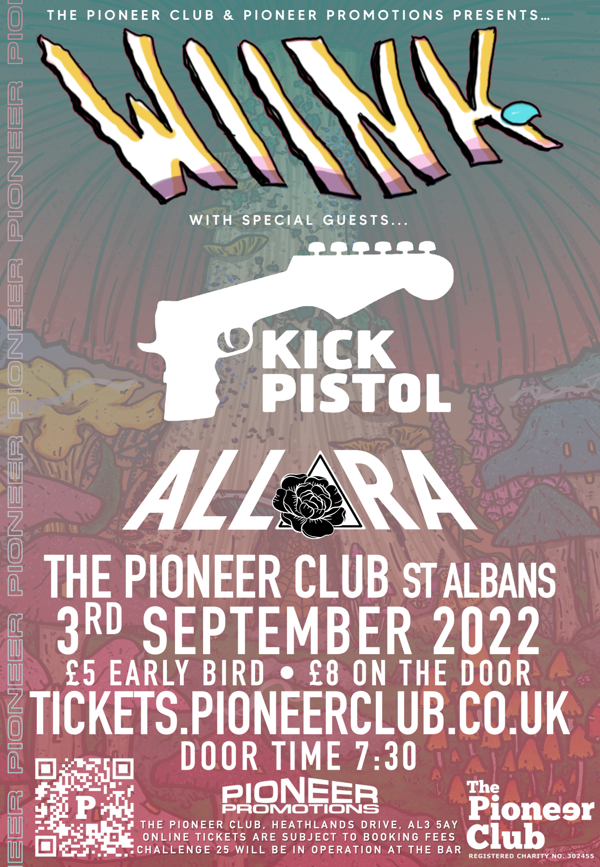 EARLYBIRD // General Admission (e-ticket)
The notorious WIINK return from Leeds for a hometown show in St Albans.
The three piece alt-indie outfit have been a key part of the Hertfordshire scene for several years and off the back of their new self titled record and their latest single 'Mushroom Tree', they are making their way to The Pioneer Club with two very special guests...
Joining WIINK we have the spectacular Kick Pistol and tagging along on the fast train from Leeds we have the amazing ALLORA
Kick Pistol: Formed by a group of school friends in 2016, Kick Pistol take their influences from groups such as Muse and Radiohead. They have performed locally in both in St Albans and Hemel Hempstead over the last several years. Kick Pistol are undeniably a band to catch at The Pioneer Club!
ALLORA: A harmonic rock band from Leeds, West Yorkshire. A powerhouse of a band with slick riffs and epic harmonies stemming from its triad of lead singers. Their music has been described as 'deceptively simple and yet complex and richly layered' adorned with vocals that 'are powerful, scarily powerful' and built upon with 'deft composition that beguiles their young age'.
It may be the end of the summer, but The Pioneer Club isn't done with you yet, this fantastic lineup is not to be missed! Get your early bird tickets today.
Facebook Event HERE
 Find out more about...

Line Up
ALLORA are a harmonic rock band from Leeds, West Yorkshire. A powerhouse of a band with slick riffs and epic harmonies stemming from its triad of lead singers. Their music has been described as 'deceptively simple and yet complex and richly layered' adorned with vocals that 'are powerful, scarily powerful' and built upon with 'deft composition that beguiles their young age'. - Find out more HERE
View Profile